By: Nick MacRae, Long Beach State Univ.
Originally Published in: Coaching Volleyball
Provided by: AVCA
Throughout the process of winning back-to-back NCAA National Championships with the Long Beach State men's volleyball team, Head Coach Alan Knipe has operated with one central philosophy: culture drives behavior, and behavior drives results. In the role of the coach, this means that you should strive to cultivate an environment in the training gym that can simulate stressful situations and instill the culture that defines how you are going to behave during the biggest moments. One variable that you can use to analyze the behavior of your team could be how they handle blocking against a perfect pass offense. Blocking against an offense that has tempo to the pins, a back-row quick attack, an active setter and a middle running varying routes can be very stressful.
On the other side of the ball, how does your team behave when dealing with extreme heat from the end line? In today's game, you see some teams relying on philosophies that are focused on one approach from the end line; that mentality is to hit their serves 70mph or harder, even if they miss.
With that known, on the receiving end, we often see coaches who only give feedback based on whether a pass is perfect or, in some way, bad. Coaches - your response should not just be to "pass the ball better!" If this is you, guess what? Your feedback is adding to the stress and anxiety of your athletes. Rather than giving feedback based on the outcome, your team should have a solution with regards to handling and managing this service pressure.
What system have you trained your team to execute against a 70mph jump-serving team?
At Long Beach State, we train an offensive system for in-system perfect passes, a system to control the ball off the net and execute a 10-foot-line offense, and a system when you are completely off the net. When 70mph jump serves are coming, as a coach, you should stay calm and remind your team that you have an offensive system in place to handle it, and that you train it in your gym every day. If you do not train this system, then your team will not be prepared to undergo this stress.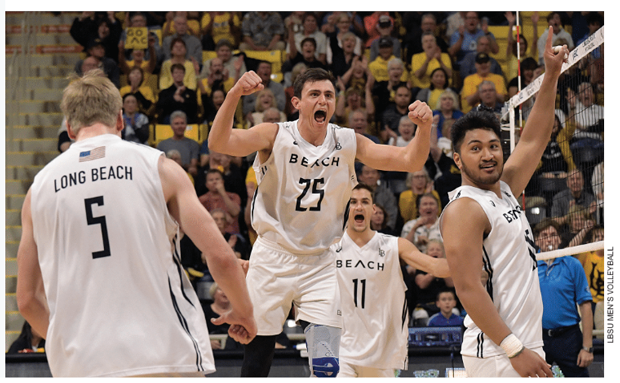 Coaches Quiz!
Quiz Question: What is one thing that you can do as a coach to help shape the culture of your team?
System Answer: Set the vision by being an active participant in open, honest and direct communication. This can subsequently help you start the process of building a road map that will show you how to obtain the vision and culture that you desire for your program.
Quiz Question: When blocking against a tempo offense, do we want the coach to dictate what we are blocking, or do we want to train our athletes to make a read and then block what they see?
System Answer: If your athletes are able to make a blocking move based on their read, then you are training them to find solutions independently and not just do what the coach tells them to do.
Extra Credit: If a team is hitting their serve 70mph, what are you telling your team on serve-receive, and are you adding to their stress and anxiety?
Is your team's preparation to handle adversity in a match transferable to how they will handle situations in their daily lives?
As coaches, the more we are able to help ath-letes overcome stressful situations on the court by working together through communication, the more that they'll be able to start resolving stressful situations in other areas of their lives. At Long Beach State, both of the years during the back-to-back championship run were very different. However, the one thing that remained consistent was the amazing culture, where coaches and athletes communicate openly, establish inclusive trust, and work together to overcome any situation that comes up.
Conclusion: Be creative and innovative with your training solutions, communicate with your team, and work together on your culture. Good luck! No Stress!